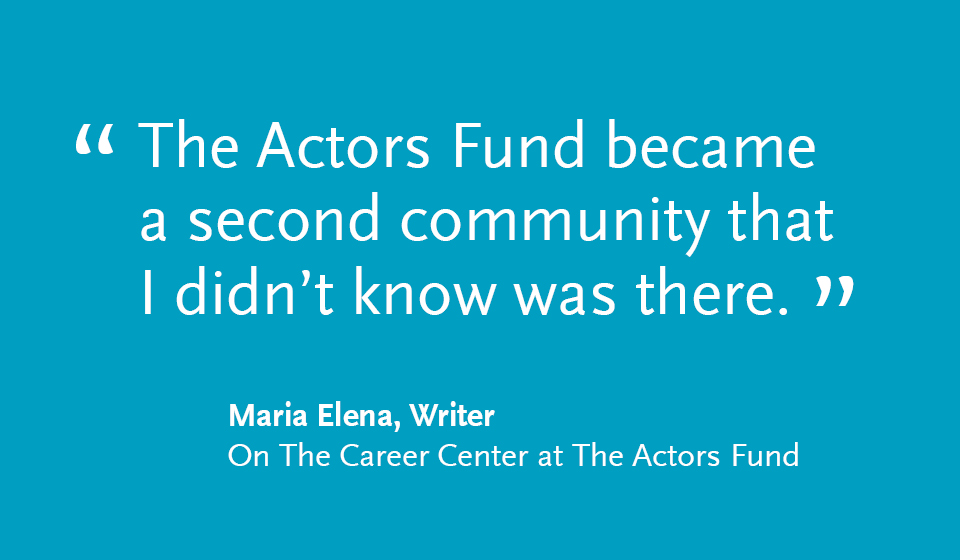 Maria Elena discovered The Actors Fund during the 2007-08 writers' strike, when she was sent to deliver some donations from the Writers Guild of America West. After the strike ended, she, like many of her fellow writers, was at a career impasse. Should she continue on this road as a TV writer or try a different path? She needed help exploring her new reality, so she turned to The Fund.
Since then, Maria Elena has taken advantage of most of The Fund's services, including a wide array of classes and seminars offered by The Career Center. She also connected with many of the entrepreneurial leaders she met at Actors Fund workshops, finding great inspiration in their stories and advice.
"It became a second community that I didn't know was there. I still go to some of the talks and workshops today. Career Counselor Joanne Webb was my advisor for a couple of years, and I can't tell you what that meant."  She appreciates how the staff helps people realize that even though you're learning new skills, it doesn't mean you're betraying your artistic career.  
Through The Career Center at The Actors Fund, Maria Elena embraced another field she was passionate about. Her years as a line producer and volunteer in many organizations translated well to a possible career in non-profit management. But it turned out that she wasn't done in entertainment yet: Maria Elena is again working as a TV writer, this time on Ava DuVernay's series Queen Sugar. She landed the gig, in part, because of her background in working with ex-inmates and youths in juvenile hall.
"The Actors Fund taught me to understand the ever-changing nature of the entertainment industry. They teach you how to navigate that as well as recognize how other skills and interests have value."
Play a leading role in helping those in need in our performing arts and entertainment community!