We're hoping you can help us spread the word about getting The Actors Fund's Financial Wellness Workshop, Budgeting Nuts & Bolts: Money Tips for Entertainment Professionals. These marketing materials are for you! Together, let's assure San Francisco's artists are equipped with information on financial wellness.
These marketing materials include messages and images for your website/blog, Facebook, Instagram, LinkedIn or Twitter feed, to make it easy to share and promote The Actors Fund's workshops in San Francisco this coming October. For questions or if you require additional materials for your organization, please contact:
David Engelman
Director of Communications
dengelman@actorsfund.org
917.281.5976
––––––––—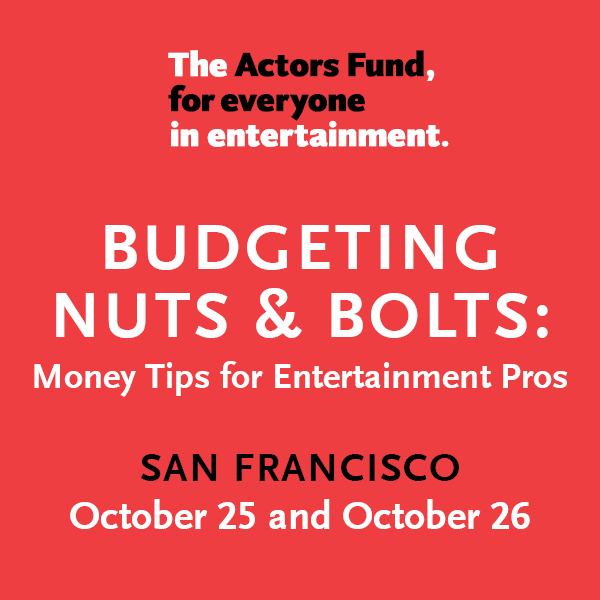 To download image above, right click on it and save on your computer.
For Newsletters or email
Wishing you could spend less time stressing about money and more time focused on your career?
You're invited to a free workshop from The Actors Fund to help you identify your financial goals and get specific about how money moves in and out of your life. You will learn simple but powerful strategies for tracking your income and expenses in a way that makes sense for entertainment professionals who don't alkways earn and spend the same way each month.
RSVP for one of the following Budgeting Nuts & Bolts: Money Tips for Entertainment Professionals sessions to learn the tools and skills to support your financial health and stability!
October 25 at ODC Dance Commons Conference Room, 351 Shotwell Street
6:00 pm – 8:30 pm
RSVP Here
October 26 at Yerba Buena Center for the Arts, the Lounge, 701 Mission Street
11:00 am -1:30 pm
RSVP Here
2:30 pm – 5:00 pm
RSVP Here         
Attending participants will be eligible to join the Managing Cash Flow online-facilitated class.
The Actors Fund Financial Wellness Program seeks to engage, educate and empower performing arts and entertainment professionals about the role of money in their lives.
Facebook 
Wishing you could spend less time stressing about money and more time focused on your career? You're invited to free workshops offered by @TheActorsFund to help you identify your financial goals and get specific about how money moves in and out of your life. You will learn simple but powerful strategies for tracking your income and expenses in a way that makes sense for entertainment professionals who don't always earn and spend the same way each month. http://ow.ly/nywE30lS511 #financialwellness #money #finances #budgets #actorslife
RSVP for Budgeting Nuts & Bolts: Money Tips for Entertainment Professionals
Pick the date and time that works best for you:
Thursday, October 25 | 6:00 PM – 8:30 PM at ODC Dance Commons, 351 Shotwell
Friday, October 26 | 11:00 AM – 1:30 PM at Yerba Buena Center for the Arts, 701 Mission Street
Friday, October 26 | 2:30 PM – 5:00 PM at Yerba Buena Center for the Arts, 701 Mission Street
Instagram
Wishing you could spend less time stressing about money and more time focused on your career? You're invited to free workshops offered by @TheActorsFund to help you identify your financial goals, and get specific about how money moves in and out of your life. Learn simple but powerful strategies for tracking your income and expenses in a way that makes sense for entertainment professionals who don't always earn and spend the same way each month. RSVP now via @TheActorsFund's services & programs webpage. #financialwellness #money #finances #budgets #actorslife
Twitter
Wishing you could spend less time stressing about money and more time focused on your career? Sign up for Budgeting Nuts & Bolts: Money Tips for Entertainment Pros, a free workshop from @TheActorsFund on Oct. 25 & 26 http://ow.ly/nywE30lS511 #financialwellness #budget #money
LinkedIn
Wishing you could spend less time stressing about money and more time focused on your career? You're invited to free workshops offered by @TheActorsFund on October 25 & 26 to help you identify your financial goals and get specific about how money moves in and out of your life. You will learn simple but powerful strategies for tracking your income and expenses in a way that makes sense for entertainment professionals who don't always earn and spend the same way each month. http://ow.ly/nywE30lS511
#money #moneymanagement #budget #finances #actorslife #actresslife #financialwellness