The Dorothy Ross Friedman Residence
The Dorothy Ross Friedman Residence provides supportive housing to special low-income groups including seniors, working professionals and people living with HIV/AIDS.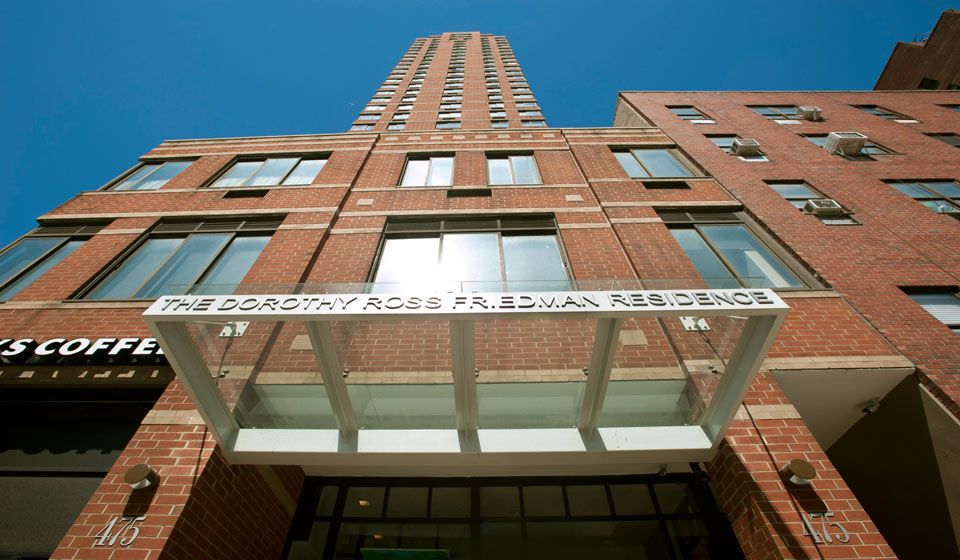 The Dorothy Ross Friedman Residence, which opened in 1996 at 475 West 57th Street in New York City, is a 30-story, high-rise condominium that was converted into 178 shared residential units of supportive housing.
The Friedman Residence offers:
Four apartments per floor, many with spectacular views and terraces
Parquet floors and spacious closets
Large sliding windows
Washer/dryer in each apartment
Individual room heating and individual air conditioning units
Bathrooms in black and white marble
Dishwashers, ceramic kitchen tile and white Eurostyle cabinets
Each resident has his/her own bedroom and shares a living room and kitchen with one or two people. Some apartments have a shared bathroom; others have private baths. In addition to shared apartments, there are 27 one-bedroom units. One-bedroom vacancies are prioritized to people with specialized medical needs.
We provide on-site social services for residents, including:
Information and referral to community resources
Entitlement program advocacy
Coordination of home care and medical services
Outreach
Health education
Support groups
Our social services staff serving our residents includes social workers and an activities coordinator.    
Medical services are available to residents through The Friedman Health Center for the Performing Arts in Times Square. In addition, the Visiting Nurse Service of New York provides on-site evaluations to determine the individual medical needs of residents and arranges for all services and treatments.
Eligibility
Eligibility for the building is based on federal guidelines under the Internal Revenue Service Federal Tax Credit Program. To be eligible, you must have an income of 60% or less of the area's median income. To apply ​for a suite, your annual income may not exceed $47,760 and should not be less than $28,500. We do accept most forms of rental subsidies. A limited number of one-bedroom units are available for individuals with specialized needs who meet the medical criteria, ​and whose income does not exceed $47,760 and is no less than $30,000. Households of two will be considered for a one bedroom only if both members are persons with AIDS, or senior citizens with joint incomes not exceeding income guidelines of $54,600 annually and a minimum income of no less than $30,000.
Click here for more information about The Friedman Residence Reasonable Accomodation Policy.
For Assistance, Please Contact:
Anna De La Rosa, Director of Housing Services
212.489.2020
adelarosa@actorsfund.org
Intake Department/Breaking Ground Management
475 West 57th Street, 2nd Floor
New York, NY 10019
212.262.4502
auroraintake@breakingground.org
The Dorothy Ross Friedman Residence is currently accepting applications.