The Palm View is a 40-unit apartment complex that provides homes to low-income people with disabilities or who are living with HIV/AIDs in West Hollywood, California.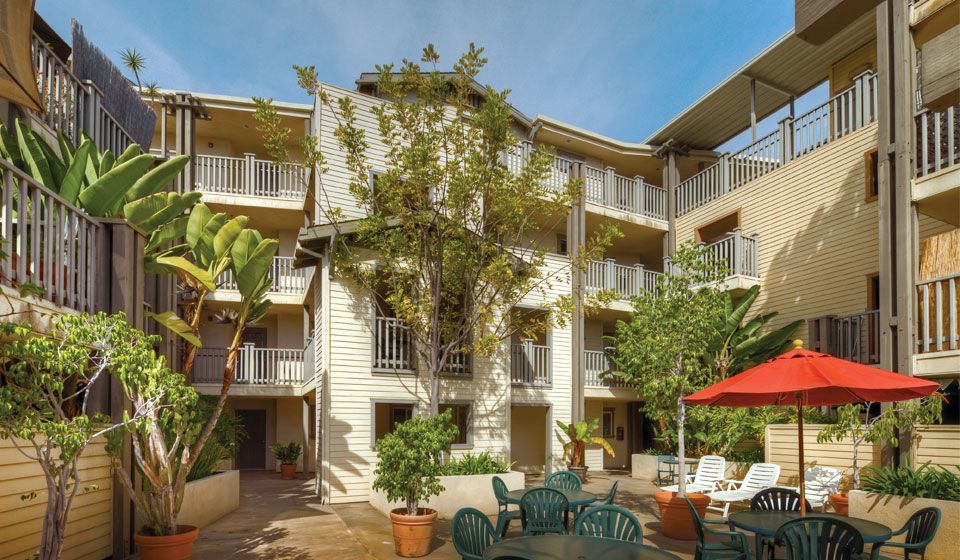 Opened in 1998, The Palm View consists of three buildings surrounding an outdoor courtyard, and is a collaborative project between The Actors Fund, the West Hollywood Community Housing Corporation (WHCHC), Housing for Entertainment Professionals and various funders.
The buildings contain:
29 one-bedroom units, averaging 600 square feet
11 two-bedroom units, averaging 800 square feet
A 49-space parking garage
On-site management office
A separate bungalow provides common areas that can be used by all residents, including a large living room, a library/computer room and a kitchen. The facility totals 33,800 square feet and was designed by Killefer Flammang Purtill Architects.
The buildings are managed by WHCHC but most of the residents are entertainment professionals referred by The Actors Fund. The project is funded by The Actors Fund, the City of West Hollywood, the Community Development Commission of the County of Los Angeles, Citibank, F.S.B., and the Enterprise Social Investment Corporation which syndicated $4 million of low-income housing tax credits. WHCHC provides The Palm View with "enhanced management" that combines standard property management practices with referrals to local services and community building activities. The WHCHC Resident Services Coordinator is responsible for maintaining contact with residents and monitoring their need for social services.
Eligibility
Eligibility requirements for housing in The Palm View are based on occupancy and annual income criteria, and residents must be diagnosed with a permanent disability or HIV or AIDS. Household size for a one-bedroom apartment is 1–2 people, and occupancy for a two-bedroom apartment is 2–4 people.
The annual income to qualify as a Palm View resident must be between the ranges of $12,000–$30,400 for one person, and $15,000–$34,750 for two people. The building does accept Section 8 Vouchers from Los Angeles County.
For Assistance, Please Contact:
The Actors Fund's HIV/AIDS Initiative Coordinator:
323.933.9244