The Actors Fund and Breaking Ground Community joined forces to develop this unique, 217-unit residence for single adults in the heart of Downtown Brooklyn.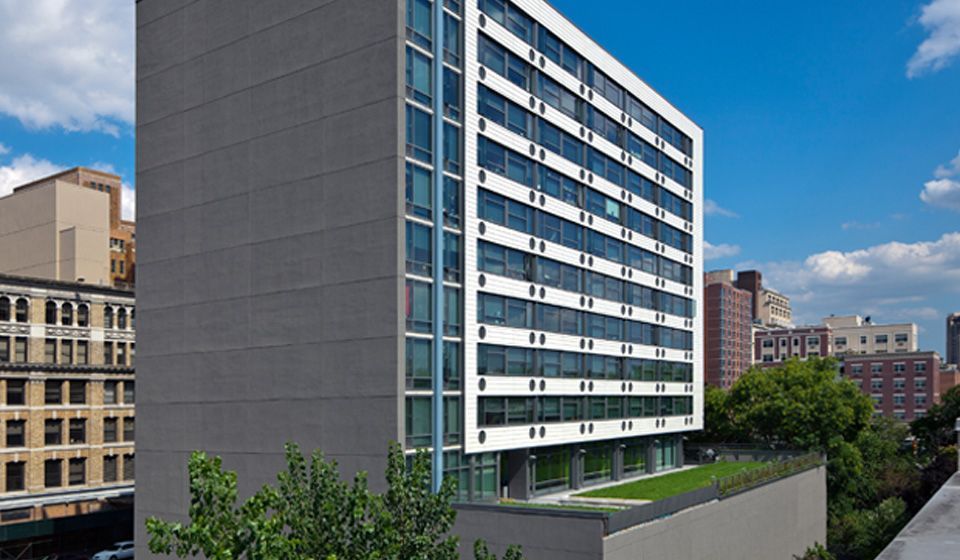 At 160 Schermerhorn Street, we provide 100 studio apartments for eligible individuals from Community Board 2 and the performing arts. The remaining apartments house formerly homeless individuals living with HIV/AIDS or mental health needs with on-site social services provided by our partner agency Center for Urban Community Services (CUCS).
The Schermerhorn offers:
A private bath and full kitchen in each apartment
24/7 security staff
Coin-operated laundry facility
Fitness room
Computer lab
Outdoor terrace with green space
Rehearsal space
All residents will have access to on-site social services, and the opportunity to participate in a variety of regular programs, such as:
Social gatherings, holiday celebrations, and other special events
Holistic wellness programs including yoga and massage
Volunteer opportunities
Career development and financial management
Support groups for chemical dependency
The Schermerhorn also houses The Actors Fund Arts Center, a 2,000-square-foot, state-of-the-art performance space and multipurpose room. Residents and community arts organizations may use this space for rehearsals, performances, films and exhibitions, enriching the vibrant and growing Brooklyn arts culture.
We provide housing in compliance with federal fair housing laws.
Eligibility
Eligibility for The Schermerhorn is based on federal Low-Income Housing Tax Credit Guidelines. Applicant's gross income from all sources (employment, benefits, asset interest) cannot exceed $44,820 and not be less than $21,770. Monthly rents start at $635.
For Assistance, Please Contact:
Breaking Ground:
800.324.7055
Learn More
The Mark O'Donnell Theater at The Actors Fund Arts Center is a state-of-the-art black box performance venue and rehearsal space located at the lobby level of The Schermerhorn in downtown Brooklyn.